Red Lentil, Yam And Mushroom Stew
Red Lentil, Yam and Mushroom Stew
Serves 2
2 tsp coconut oil
4 garlic cloves, minced
1 tsp dried thyme
3 cups sliced crimini mushrooms
2/3 cup red lentils
3 1/2 cups filtered water (or as needed)
1/2 tsp sea salt or to taste
3 cups diced yams
2 large handfuls spinach or other greens
In a medium pot, over medium heat, warm the coconut oil.  Add the garlic and thyme, and cook for 30 seconds, until fragrant.  Add al remaining ingredients but the kale, and bring to a simmer.  Simmer until the lentils are tender and starting to fall apart and the yams are tender, about 10 minutes.  Add the spinach just before serving.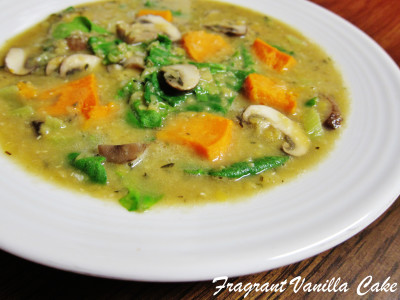 About Amy
I was first exposed to cooking and baking when I was a small child in my grandmother's kitchen. I always wanted to help and get in on the action…especially when cookies were involved! After a while though I didn't cook a thing until my highschool foods class. At that point my interest in cooking was sparked again, and I would often cook meals at home for me and my Mom.
I wasn't very adventurous in my cooking at that point however, merely following recipes.I graduated from Bethel University with a degree in studio art, but now my real passion is food. I have always been a creative person, but it wasn't until about 7 years ago my freshmen year at college that I began experimenting with cooking and venturing outside the box, creating my own recipes.
I should have gone to culinary school, but I chose art instead, and even in my later art work in college you could tell what my true passion really was. Many of my recipes are raw, because I enjoy a high raw plant based diet including some cooked foods.  I find I feel the best when eating this way, and I think it is important to listen to your own body and what it needs. One of the reasons why I believe that wholesome and organic foods are important is that I am a runner.http://fragrantvanillacake.blogspot.co.uk